6th over: Netherlands 29-1 (O'Dowd 5, Musa 8) Four off the over from Topley, so the Dutchmen have 29 off their first 30 balls. Any time from 1971 to 1995, this would have counted as a strong start.
5th over: Netherlands 25-1 (O'Dowd 5, Musa 4) Musa flicks Willey to long leg for what should be a single, but some hard running conjures up a second. Some things England can do, the Netherlands can do too.
Jos Buttler, by the way, has just become the first Englishman with a career strike rate, in ODIs, of 120 (min. 10 matches). Only six other Englishmen have managed 100. Three are quite easy to guess – Roy, Bairstow and Moeen. Three less so – Plunkett, Adil Rashid and Matthew Fleming, the sole representative of the 20th century. Full list here.
4th over: Netherlands 21-1 (O'Dowd 4, Musa 1) Topley continues to Max O'Dowd, who was the sleeping partner in the opening stand. He wakes up now, holding his bat in the air like a baseball star and getting off the mark with a square drive. Musa Ahmad gets going too, with a dab to third man, and then O'Dowd plays a nice pick-up for three. Shot of the innings so far!
3rd over: Netherlands 15-1 (O'Dowd 0, Musa Ahmad 0) That's a great over from Willey, who had been swinging it away. The Netherlands need another 484 for a famous victory. But they were crafty to keep Dawid Malan in for so long – otherwise they might be chasing 600.
Wicket! Vikramjit b Willey 13 (Netherlands 15-1)
Scrap that! Vikramjit backs away outside leg stump and pays the price as he's too far away to reach Willey's nip-backer, which clips the off bail. Still, he made 13 times as many runs as Jason Roy and Eoin Morgan put together.
2nd over: Netherlands 13-0 (Vikramjit 11, O'Dowd 0) Vikramjit has a plan: to get them on his own. And it's going pretty well so far, as he carves Reece Topley for four. He's a left-hander and he seems to have a taste for left-arm seam, which is lucky as England have nothing else bar their three spinners.
1st over: Netherlands 6-0 (Vikramjit 4, O'Dowd 0) The Dutchmen won the first two overs of the day, reducing England to 5-1. And now they start well themselves, as Vikramjit Singh punches David Willey past cover for three, clips a single off his pads and picks up a couple of extras too. Only another 493 to go.
Thanks Geoff, afternoon everyone and welcome to the most daunting run chase in history.
Netherlands must chase 499 to win
That is the highest List A innings score ever recorded. The best in men's ODI cricket was England's 481 against Australia at Trent Bridge. The best in women's ODIs was New Zealand's 491 against Ireland in Dublin.
The best in all domestic 50-over cricket was Surrey's 496 against Gloucestershire in 2007.
Now, there is a new holder. Not quite to the 500, but top of the tree.
What a display of hitting. Livingstone scored 66 from 22. Buttler 162 from 70. England hit 26 sixes today, which means 156 runs by that method alone.
And don't forget, Netherlands won the toss and asked them to bat.
That's it for me. Tim de Lisle will be the one to take you through the chase, such as it might be in the circumstances. The rest of you, take a deep breath and lie down.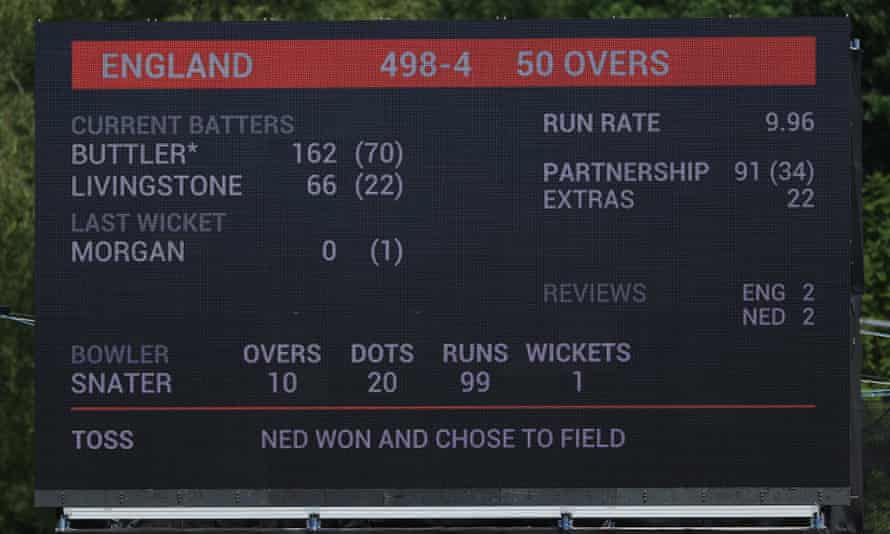 50th over: England 498-4 (Buttler 162, Livingstone 66) England start the last over 23 short of making 500. Buttler hits a couple of deuces before finding one more six, his 14th of the innings, over midwicket. That leaves England on 488 with two balls to come, and Livingstone so nearly gets them there. The final ball of the day goes over midwicket for six. The second-last ball of the day falls just short, for four.
49th over: England 477-4 (Buttler 151, Livingstone 56) Having not seen strike in several overs, Buttler can't break a de Villiers record either. A deuce, a single, and eventually he raises his 150 from 65 deliveries. One slower than ABDV. None too shabby. But Logan van Beek bowls a really good over, nailing his yorkers to keep the scoring to seven runs.
48th over: England 470-4 (Buttler 146, Livingstone 54) Everybody is trying to break an AB de Villiers record. His mark for the fastest 50 is 16 balls. Livingstone goes to 46 off 13 when he smashes Snater over cover. But his next attempt at a six goes miles up in the air, comes down behind square leg, and while it gets dropped by Bas de Leede making up a lot of ground, it only nets Livingstone two runs. He then misses out twice as Snater outsmarts him with slower balls that evade the bat. By the time Livingstone belts another six down the ground, he's taken 17 balls and the record remains unbroken.
If you're playing along at home, that is obviously the second-fastest all time, and the fastest for England.

47th over: England 457-4 (Buttler 146, Livingstone 42) Now Buttler, with 146 from 62 balls, can't get on strike. Livingstone bashes a couple of fours from van Beek, and he has 42 from 12 balls. This is wild.
46th over: England 446-4 (Buttler 145, Livingstone 33) Boissevain to Livingstone, and that may not be the match-up you want.
Four. Six. Six. Six. Four. Six.
Mick Lewis' record is still intact, if you're worried. That was 113 conceded during South Africa's 438 chase. But Phillipe Boissevain, who started so well in his first few overs, has gone for 108 wicketless runs today.
Most of Livingtone's shots in that over are smeared over midwicket, with a couple over long-off. Goodness. 32 from the over.
45th over: England 414-4 (Buttler 145, Livingstone 1) Truly bizarre cricket. Out comes Livingstone on a hat-trick, drives a single to defuse the delivery. One left in the over. Seelar tries to dart through a yorker. Buttler crushes it over long-off for six more! Lucky 13 for Buttler. He could break the AB de Villiers record for the fastest 150 here. Got two balls to spare, or three to equal it.
WICKET! Morgan lbw Seelar 0, England 407-4
What the actual? England have over 400, and Pieter Seelar is on a hat-trick. The Netherlands skipper hits his counterpart captain on the pad first ball. It looks like that one his pitched outside the left-hander's leg stump, so the umpire says no. Seelar reviews, as is his perogative, and DRS says: Roxanne, you have to put on three red lights.
WICKET! Malan c de Leede b Seelar 125, England 407-3
Finally, something for Netherlands. Malan lifts the spinner over the leg side, behind square, but needs another couple of metres on the shot. It comes down just inside the rope and requires a good catch. You would think that would bring Liam Livingstone to the crease, but Eoin Morgan sends himself out instead.
44th over: England 401-2 (Malan 121, Buttler 138) Dawid Malan finally gets in on the act, lifting Boissevain straight over the sight screen. The length was there to hit. But Buttler doesn't care about the length. Or the line. He's not to the pitch of his next big swing. It lands short of him, spins away from him, outside off stump. And he still cross-bats it over wide long-on for six. Raises the 400. Requires another replacement ball as that one isn't coming back. That makes 12 sixes for Buttler.
43rd over: England 385-2 (Malan 114, Buttler 129) This is absolute carnage. It's the cricket version of the last half hour of The Blues Brothers. Another six for Buttler to start the 43rd over, belting Snater over long-off. He goes off side again for four runs over cover. It feels like the over calms down with some wides, singles, twos, but it still costs 17 runs. We're now looking at 400 as a formality.
Century! Buttler 101 from 47 balls
42nd over: England 368-2 (Malan 113, Buttler 114) Short, easy, and swatted away. Dutt provides the length, Buttler goes back and pummels it. The third century in this England innings. And that is the second-fastest century ever scored for England in one-day cricket.
The fastest? That was Buttler too, in 46 balls. What is now the third-fastest was Buttler in 50. So he has the full podium now.
He celebrates with another six, punted over the leg side off the spinner. Then another one, just to be sure. Then a single to keep the strike.
He's 114 from 50 balls. He's hit 10 sixes. And he's gone past Dawid Malan's score, after coming out in the 30th over, when Malan came out in the second over.

41st over: England 346-2 (Malan 112, Buttler 93) Ten overs to go. How big are we going?
HUGE.

Biggest hit of the day from Buttler, picking up van Beek's attempt at a yorker and lamping it over the sightscreen, into the trees again. The ground staff find the ball, in the end, and van Beek's attempt at the wide yorker concedes a wide, then returns him a dot ball. Comparatively that's a great result for Netherlands.
The bowler tries the same again, and Buttler gets a fat inside edge for two runs to fine leg. Wide again, chased again, squeezed to deep backward for two. Then a good yorker, one that Buttler can only keep out. Give him four runs in three balls and it feels like a win.
40th over: England 334-2 (Malan 110, Buttler 83) The stand-up scoop from Buttler! Shapes to scoop, expecting a length ball from de Leede, who instead bowls a slow bouncer. The leg-stump line though gives Buttler time to adjust to the length, and catch up to the ball with his scoop shot. Four runs over fine leg. Next ball, same delivery, same shot, same result.
It doesn't stop there. Pace on, at the stumps, and Buttler plays a whip shot over midwicket for six. Such clean timing, creamed away. Then another slow bouncer, this time outside the off stump, and Buttler dabs it gently through deep third.
That makes 20 runs from Buttler's last five balls. Bas de Leede has gone for 65 from 30.


39th over: England 313-2 (Malan 110, Buttler 63) A bit ropey again from Buttler, slicing van Beek through cover for four, then immaculate control from Malan, lifting the bowler over wide long-on for a one-bouncer. Wides, singles, 13 from the over, van Beek at least has a wicket today but has conceded 52 runs in his seven overs.
38th over: England 300-2 (Malan 105, Buttler 57) Aryan Dutt tries to slow things down. Does a decent job, two from the first ball and singles after that, Buttler unable to get a switch hit away to end the over. Seven runs is a win for the orange team at this point.
That's 300 for England. They've added 48 in the last four overs. So, 400 is very much on the cards unless wickets fall.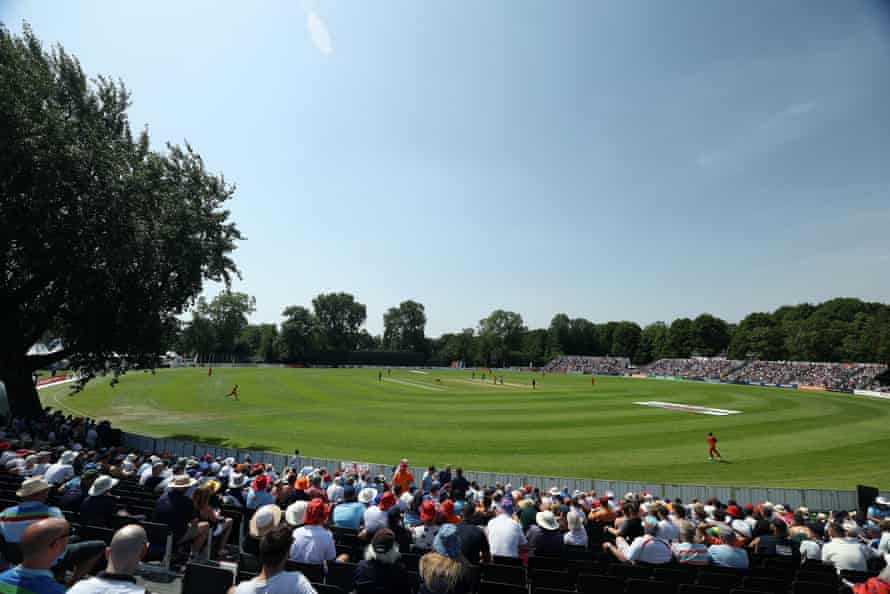 37th over: England 293-2 (Malan 103, Buttler 52) The helicopter takes off! Just about, anyway. That whipping action with the wrists, that allows Buttler to lift a yorker length delivery over long off for a huge six. Extraordinary. Shane Snater the unlucky bowler. Four singles besides. Buttler gets a half-century in 27 balls.
Century! Dawid Malan 100 from 90 balls
36th over: England 283-2 (Malan 99, Buttler 38) Buttler has kept the strike, and starts against Boissevain by gliding four more runs. Finally he turns over the strike, and Malan knocks a ball away to midwicket. That is his first one-day century for England, and lets him join Buttler and Heather Knight as the only England players with a century in all three formats.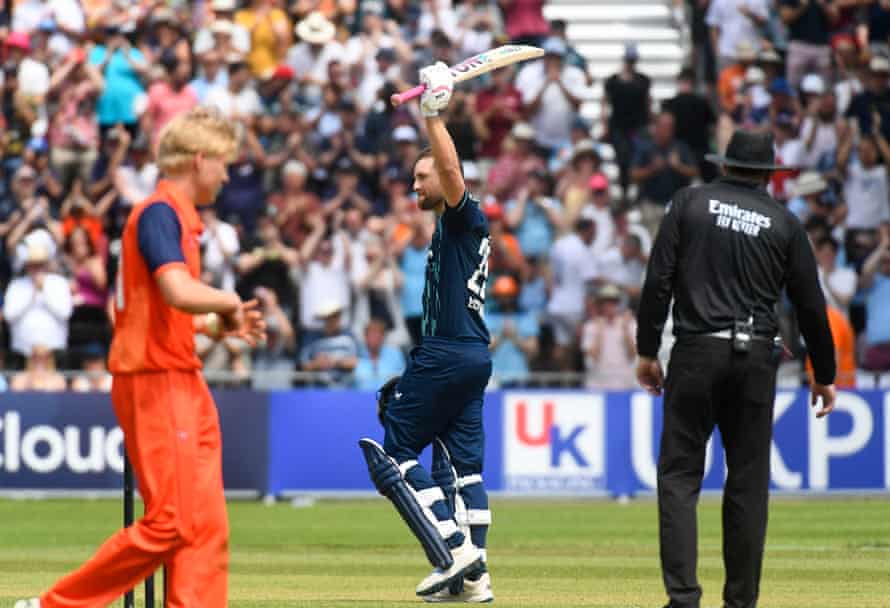 35th over: England 274-2 (Malan 99, Buttler 38) Oh, goodness me. Seelar the bowler. Buttler has no interest in hanging around. He goes long down the ground. Vikramjit Singh at long-on sees the hit and runs in from the rope. Too far in. It goes over his head for six. Would have landed in his hands had he stayed put.
What does Buttler do? Hits another six, into the crowd this time. Deep midwicket.
Then another one. Over Vikramjit by miles.
Tries for a fourth one. Hits it flat to long-off. And is dropped by Musa Ahmed. Flat, into the hands, into the chest, out again.
Two lives in the over for a monstrous hitter who takes 21 runs from it, while Malan waits at the other end on 99.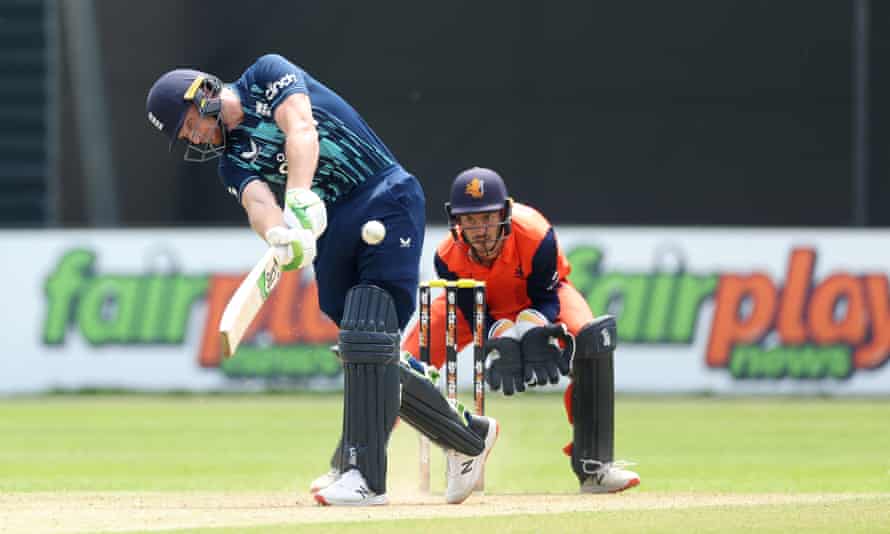 34th over: England 253-2 (Malan 99, Buttler 17) Seven runs from Boissevain's over. He's only gone for two fours and one six, but has still conceded 52 from seven overs so far. They've worked him without attacking him.
33rd over: England 246-2 (Malan 94, Buttler 15) There goes Joseph Buttler. A bit of mid-range spin, that's exactly what he likes. Waits for Seelar and hits a long straight drive into the woods and loses the ball in the process. Nine from the over, once a new ball is found and play continues.
32nd over: England 237-2 (Malan 93, Buttler 7) A big task for Boissevain to take on Buttler. Overpitches with his first ball and it gets a drag-drive straight for four. Second ball is short but Buttler pulls rather than cutting, unable to beat the field. Produces the cut shot after that but finds the cover sweeper for one. That brings the left-hander onto strike, and Malan caresses a cover drive when the ball is angled across him. Four.
31st over: England 228-2 (Malan 89, Buttler 2) Four runs from the Seelar over. Buttler takes his time, has a look, defends a flighted delivery, works a couple of singles. One of them via that hockey-style cover drives that he enjoys.
30th over: England 224-2 (Malan 87, Buttler 0) A drinks break following the wicket, a Malan single, and that's it. So. Buttler is used to coming in to open a T20 innings. And now he will begin his day's work with 20 overs to go.
WICKET! Salt c Boissevain b van Beek 122, England 223-2
At last, something for the Dutch. Salt cuts a fairly regulation delivery, gets a swirling top edge rather than the middle, and Boissevain is able to take the catch scooting around from backward point. Relief for Netherlands, but next in is Jos Buttler.
29th over: England 218-1 (Salt 118, Malan 86) The captain brings himself back on, Pieter Seelar trying to regain some control, and that's nice in theory but not so good when he finishes the over with a full toss that Salt hits into the trees beyond the grass banks and has it bounce back off the trunk into the field of play.
28th over: England 208-1 (Salt 110, Malan 84) On the run now is Malan, as Bas de Leede comes back and goes for two boundaries straight away. One carved over point, the next driven through midwicket. Hands the strike to Salt, who picks off a leg-stumper and lifts it over backward square. The line changes to outside off stump, so Salt slashes an angled bat through it and hits it to the cover fence.
Century! Phil Salt 100 from 82 balls
27th over: England 190-1 (Salt 101, Malan 75) Jonny Bairstow busy with the Test team, Jason Roy out early, and Phil Salt in their stead has made his first century for England. A simple tuck to deep midwicket does the job, and a solid celebration follows. He's done it at a fast clip too. Has the chance to go much bigger. Malan has a similar milestone in his sights now, moving to 74 by flicking Snater to fine leg.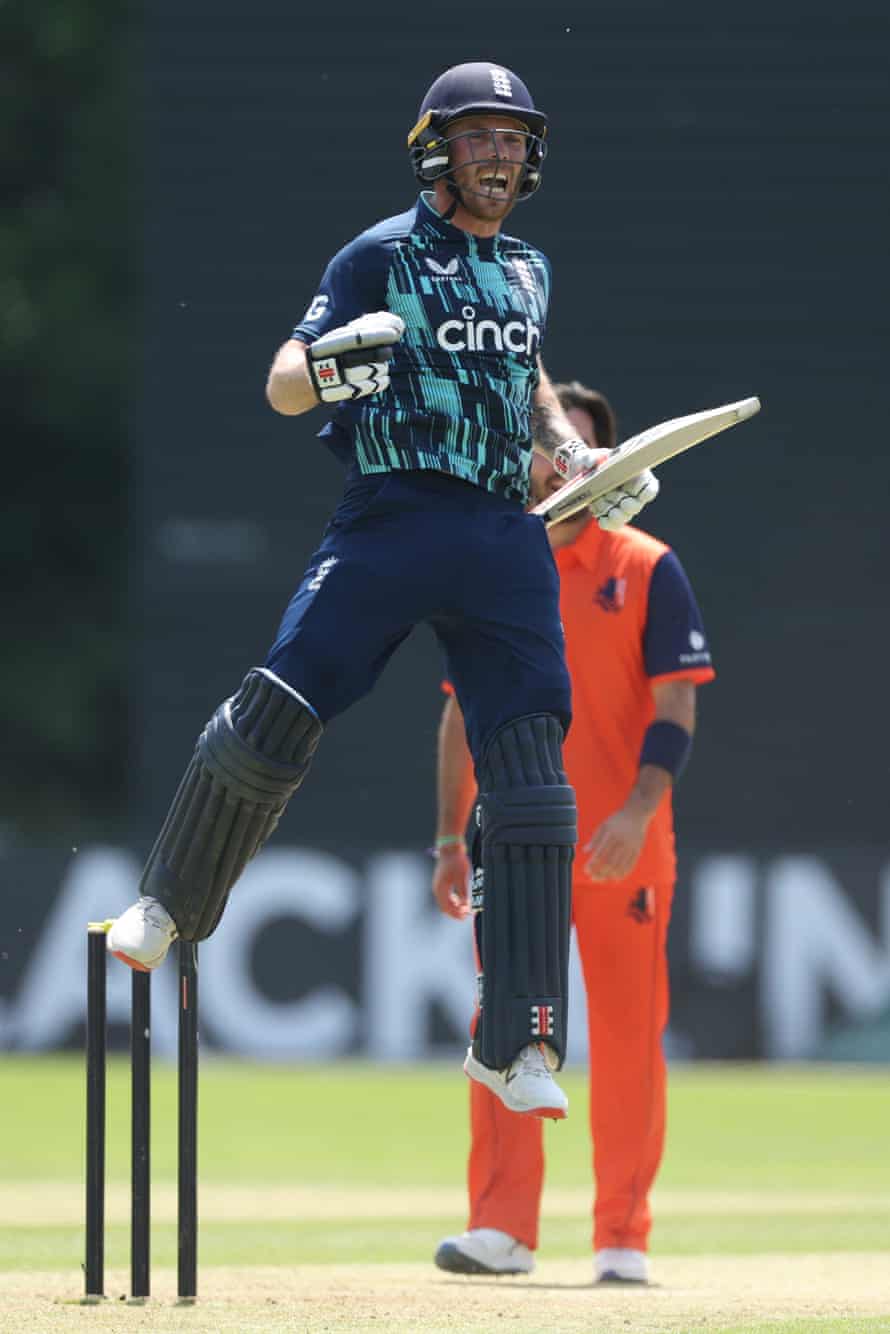 26th over: England 182-1 (Salt 99, Malan 69) The reverse sweep comes out from Malan against Dutt, finding the fence for four. Two more runs through the covers, then at last the single to give strike to Salt. Dot ball first, back to the bowler. A gently driven single. Salt drying up a bit.


Source link